Interview with Sjoerd Lycklama, partner at FLOW DEVELOPMENT
The Tripolis complex along the A10 motorway is set to be transformed by FLOW into a bustling urban campus and home to Uber's new 30,000 m2 headquarters. Innovation and high standards of use and health are keywords for the development. A Municipal Monument, Tripolis was built in 1994 and consists of three towers designed by architect Aldo van Eyck. The renovation by FLOW will preserve the existing structure and integrate it with the new "landscraper" designed by architect Winy Maas, co-founder of MVRDV. Conceptually, the design protects and embraces the existing iconic towers while adding a spectacular new rectangular edifice – 'the landscraper' – that links two of the towers. Positioned parallel to the A10, the new building is to accommodate a mix of start-ups, scale-ups and corporates. There will be space for food outlets, and all the buildings will get public rooftop gardens. Hello Zuidas talked about the project with Sjoerd Lycklama, partner at FLOW DEVELOPMENT.
In the next two years FLOW is going to develop a bustling urban campus at Tripolis-Park in Zuidas. What can we expect to see here in future?
'It's going to be completely different! It'll be an exciting place for a new generation of companies that want a unique location. By that I mean companies that are involved in innovation and growing their business, but that also feel an affinity for the project's environmentally conscious character. This is going to be one of the most sustainable buildings in Europe, with also a big focus on the physical and mental wellbeing of users. There will be residential space and amenities like a bakery, fitness clubs and cafés. The area around the buildings will get a major upgrade, turning it into an attractive spot for users and visitors to Tripolis-Park. Behind Tripolis-Park the municipality has big plans to build a large residential neighbourhood, with more than 1,500 homes. We'll be creating public bike and foot paths through our grounds to provide neighbourhood access.'
Uber is locating its international headquarters here. Do you know what led them to choose this area and this project?
'When we began hammering out the project plans we visited the newest offices of companies like Google, Spotify and Slack to get inspiration as to the future of these kinds of working environments. We tapped into a lot of that knowledge in the design of Tripolis-Park. So when Uber as a fast-growing tech company was looking for new office premises last year, this was right on the mark. The location itself is perfect for Uber because it's inside the ring road, on top of the metro and in an area that has both corporate cred but also feels very "urban" with the revamped Stadionplein area nearby. Also, with these kinds of innovative companies you see they appreciate being in buildings with a sense of history, instead of all new-builds. In redeveloping this Municipal Monument we're seeking to respect Aldo van Eyck's original design philosophy as much as possible. He was far ahead of his time in many respects, for example in viewing office buildings as meeting places rather than work factories. The new building's configuration reinforces that. But other aspects of his architecture are overdue for modernization. We're replacing the entire façade, for example, plus all technical installations, and optimizing the floor plans to really boost quality and efficiency.'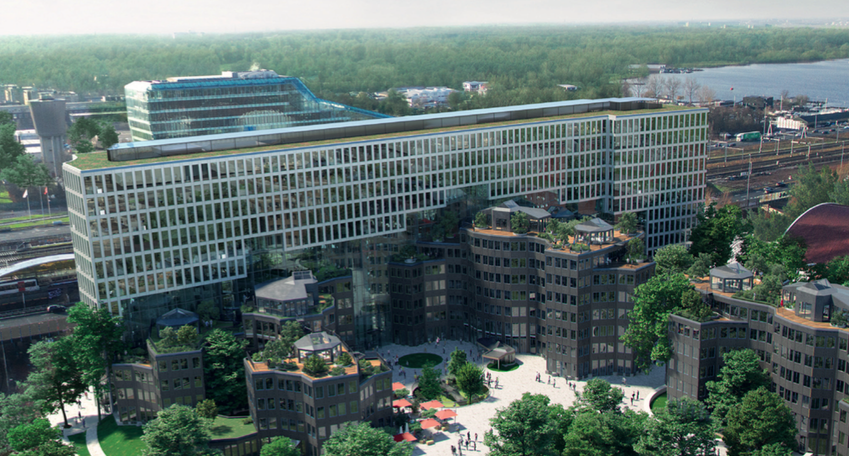 Winy Maas of the architecture firm MVRDV designed Tripolis-Park. Could you paint a general picture of how the park will look?
'The eye-catcher in Tripolis-Park will be the "landscraper", a 155-metre long, 11-storey new office building built next to and partially over the existing Tripolis towers. Three entries, including a central entrance on the square, will lead to the offices through a connecting arcade. By removing the lifts from the existing buildings and replacing them with lifts in the "landscraper", for example, the entire building works logically as a new office complex. In addition, the technical installations on the roof will be removed to make room for a new green rooftop landscape, activated with glass pavilions for dining, meeting, meditating and lots more.'
What's being done about road access to Tripolis-Park via IJsbaanpad, which is often gridlocked during rush hour? Have you come up with any smart solutions?
'We're seeing a clear trend of declining demand for parking spaces among many of the companies we cater to. Instead of parking spaces, they're primarily asking for bike sheds with plenty of space and that are easily accessible. Tripolis-Park meets that demand. Because the foundation of the new "landscraper" is being laid partially inside the underground car park, about a quarter of the existing parking spaces will be lost. Despite the larger complex, the number of traffic movements in terms of cars going in and out of Tripolis-Park is going to decrease. The municipality has also already taken measures to improve traffic flow at the IJsbaanpad/Amstelveenseweg intersection. As some people may know, Uber has launched a project in the United States called "Uber Elevate" that's investigating possibilities for an air transport service in busy cities. We're making sure the roof of Tripolis- Park is in any case strong enough to allow possibly helicopters or drones to land there one day.'
Will we be seeing FLOW developing or redeveloping any other locations in Zuidas in the near future?
'Definitely. We're a relatively young company, with big ambitions. We are co-owners of Strawinskyhuis on Prinses Irenestraat, and as TRIPOLIS-PARK soon as the District Court moves into its new courthouse early next year we'll start redeveloping Strawinskyhuis. Also, among the new generation of office users there's huge demand for a different kind of office building than what's mostly available in Zuidas right now. So in that vein we're working on plans for a new, ultra-innovative building in Zuidas, about which I hope to be able to share more soon!'
Is there anything else you would like to share with readers of Hello Zuidas?
'Tripolis-Park is a high-end mixed-use development with offices, residences and amenities in a park-like campus setting. At the heart of the development is a multi-tenant office building comprising 45,000 square metres, to be occupied by Uber and with 15,000 square metres available for other tenants. We're kicking off construction this month and the project will be completed in June 2022. FLOW has its own offices in Tripolis, and if companies would like to take a tour or see a presentation of the plans, we'd be glad to welcome them as from next month, when we'll start leasing the available spaces.'