Zuidoever: care combined with comfortable living in Kop Zuidas
Zuidas is renowned for its pioneering architecture. As it matures into an international quarter of Amsterdam, buildings are shooting up right and left in Zuidas. Amidst all these modern skyscrapers, it may be difficult to imagine that just about 20 years ago this stretch of land connecting the residential neighbourhoods of Zuid and Buitenveldert consisted mostly of tennis courts and football pitches. In this series we zoom in on the architecture of Zuidas. This time, we take a closer look at Zuidoever.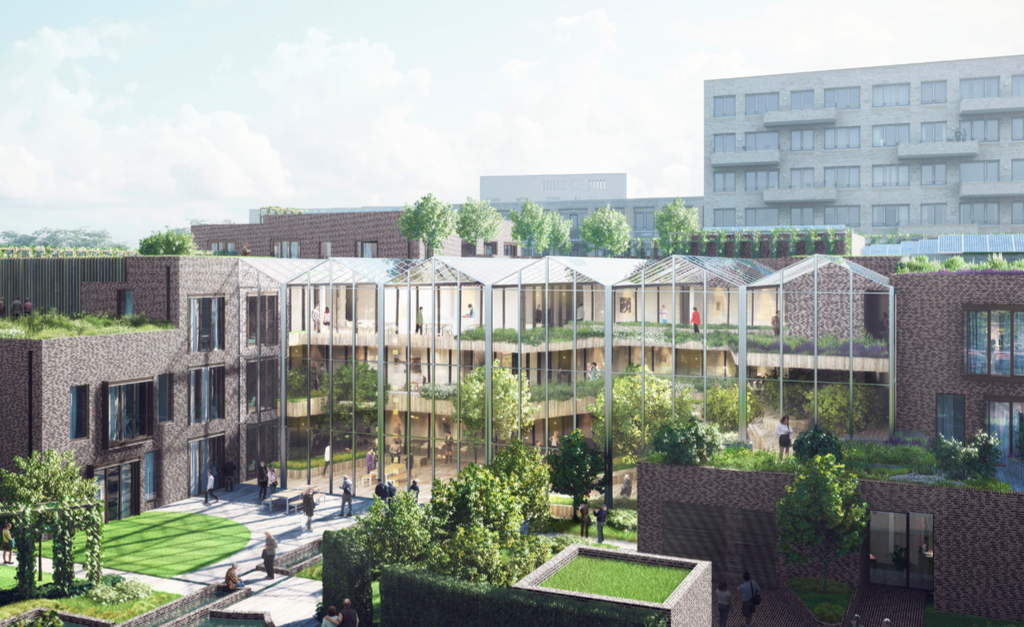 For most people, Zuidas calls to mind imposing office towers and residential blocks. But Zuidoever is changing that. This new care facility with 24-hour care offers small-scale, high-quality comfort. With 54 apartments, the building is designed to have a warm, welcoming and comfortable feel, which is articulated in abundant use of glass and a transparent façade, combined with large windows. The underlying philosophy is to allow residents who require care to continue living as normal al life as possible. This is borne out in the apartments, all with private bathrooms and pantries. Residents also have plenty of freedom to adapt their appartment to their own tastes and needs. Zuidoever is designed to be adaptable to people's physical capabilities and can be enlarged or scaled down as required. It also emphasizes physical and emotional connection with the outside world. All the residential units have a view of the gardens or street. These gardens start at street level and continue up to the fourth top level. This also includes a roofed winter garden, enabling residents to enjoy the outdoors year-round and interact anytime, anywhere. It offers possibilities for both privacy and interaction. Last but not least, the ground floor has a space that can be used to host concerts and gatherings and where residents can get together.
FACTS
• Zuidoever is very energy efficient and scores an 8.8 for Health on the Municipal Practical Guidelines (GPR) for sustainable construction.
• There are a variety of services available to residents. Fresh meals are prepared daily, a caretaker is on hand for minor maintenance jobs and all apartments are connected to a 24-hour care alarm system. • One of the neighbours was so enthusiastic about the new complex that she thought that Zuidoever should win a prize.
• Zuidoever's real showpiece is the garden, filled with colourful and fragrant plants and flowers and a winter garden with paths to stroll along, seating and a pétanque pitch.